THE SILENT EDGE
Maximizing productivity, teamwork and sustainable leadership through strategic silence
Keynotes, workshops and online-courses with Bastian Overgaard
Check availability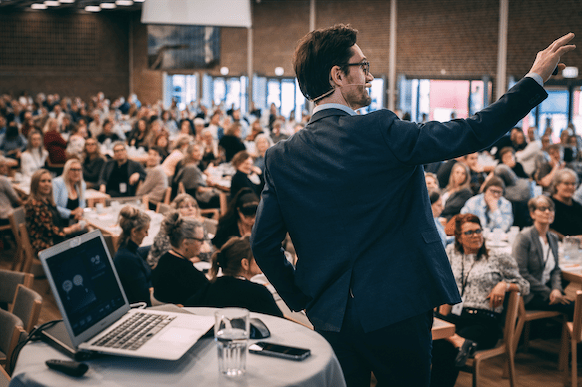 In this popular keynote, Bastian Overgaard reveals why strategic silence is a groundbreaking way to maximize productivity, empower teamwork and help leaders create more sustainable work cultures. 
Get valuable insights about the effective silent performance-approach supported by the latest research from Neuroscience, Linguistics and Behavioral Science.
You will learn
Why traditional meeting undermine real knowledge sharing 
How to reduce "noise" in your verbal communication
When your colleagues actually don't hear what you're saying
And much more.
Bastian is an incredibly skilled communicator, he creates a pleasant atmosphere and communicates accurately, nuanced and entertaining. A mix of data, theory and fun examples makes it easily digestible and exciting.


Gitte Seiffert,
Novo Nordisk A/S
What's the effect?
Value for Managers: Bastian Overgaards talk provides valuable inspiration for managers who want to increase productivity and create a healthy high performance culture. Understand how strategic silence strengthens your own communication, authority, and ability to make decisions.
Value for employees: You get a common knowledge about "noise", silence and talk. It makes you better at filtering out the unnecessary and focus on what matters in your meetings, communication and collaboration. Know how silence gives you more mental energy and make you a better listener.
Value for conferences: Bastian Overgaard speaks into one of the most important themes of our times: the need for mental health, meaningfulness and sustainable leadership. Bastians talk is thought provoking in a surprisingly respectful way and gives specific inspiration to boost your brainpower.
Bastian Overgaard nailed it in his talk about how we can make our meetings more effective in NNIT. The most important thing about Silent Co-creation is that it doesn't require extra time besides the meetings we already hold. It is relevant to everyone. It was crazy with the examples and cases Bastian brought from his work on Silent Co-creation. It was practical and something everyone could relate to.
Rikke Plagborg
NNIT A/S
It was really inspiring, innovative and breaking all cliches. Many guests were impressed by the workshop and we have had the best feedback. Bastian truly shined through with his professionalism, knowledge and down-to-earth attitude
Migena Gjerazi
TEDxCopenhagen
For information about Bastians online course, Silent Performance Practitioner, click here.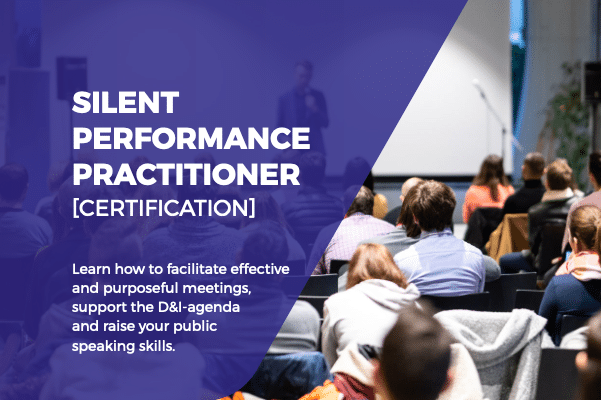 About Bastian Overgaard & The Silent Edge
Too much time is spend on people talking too much about too little. Clear communication, trust and high performance-teamwork is crucial if we want to reach our goals and create value in turbulent times. Therefore future workplaces must think different to reduce ineffective "noise" in meetings.
This is what Bastian Overgaard talks about based on his new book "Støjfri Ledelse" ("Noisefree Leadership).
His critically acclaimed book went straight to the bestseller lists in Danmark, and the international edition is on its way (titled "The Silent Edge").
Bastian Overgaards silent performance concept is used in some of the largest companies and organizations – and challenge how we communicate more effectively and have meetings that saves time and mental energy.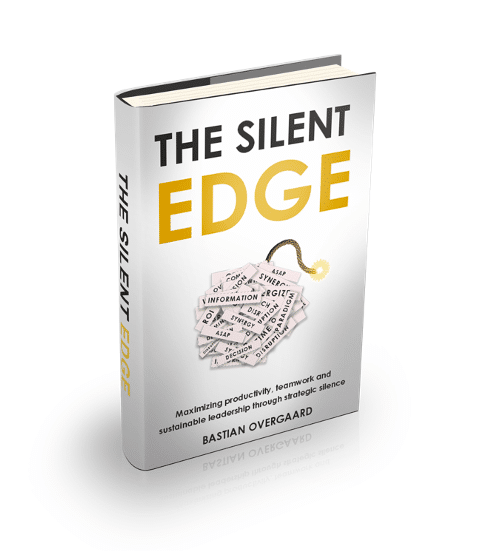 Practical
Duration 45 – 90 minutes.
The keynote is booked for conferences, management seminars, team days,  etc.
Can be held ONLINE in English or Danish.
Can be combined with a workshop focusing on a specific theme, such as effective meetings, collaboration, change management, stress management, recruiting and retention, D&I, war for talent, sustainable leadership and innovation.
Selected clients
Danske Bank, Novo Nordisk A / S, Ørsted, DSV, SEAS-NVE, IDA, DJØF, the leaders, the Ministry of Foreign Affairs, the Danish Nursing Council, KL, Finansforbundet, the Medical Association and several Danish municipalities.
Employee feedback three months after the lecture:
We have gained more focus, presence and respect for each other
We suddenly get through all the points on the agenda
We experience more peace of mind during the work day
We have been given more time for our real work
We've got more time to our "real" work
Background
After years of research, Bastian Overgaard has developed the Silent Performance-approach to help leaders facilitate dynamic high performance-meetings.
By following simple and effective silent principles leaders can create surprisingly effective meetings with:
optimal communication and knowledge sharing
higher mental focus
faster decisions
balance between introverted and extroverted talents
shorter meetings and happier employees
Bastian Overgaard has put silence on the agenda in a number of C25 companies, public organizations, boards and municipalities.
Silent Performance is not focusing on meditation, but is using silence as a strategic meeting and leadership tool. This is an art as silence can become awkward if not communicated, facilitated and implemented properly.
As a pioneer, Bastian Overgaard presents the potential of silence in a way that makes sense to both executives and employees. This gives and common frame of reference, with the result that meetings can be shortened by up to 50 percent.

Check availability 
Use the the form or contact +45 6060 9889 or via email.